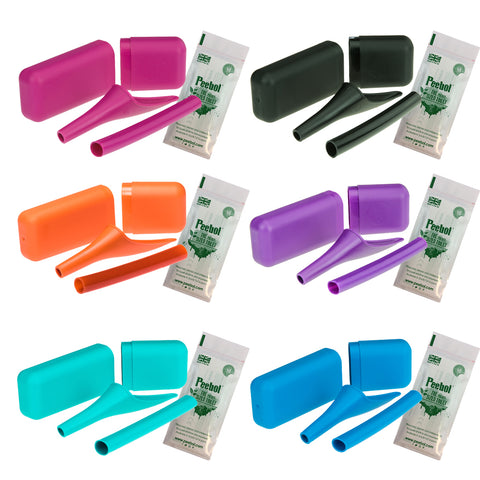 6 Pack She Pee Extreme (Great Value)
Availability: In stock
We have the colours if you need a present for all the girls in your life.
The She Pee Extreme 6 Pack consists of 1 Shewee Extreme and a 1 Pack Peebol x Six (each Extreme will be a different colour). 
Shewee is a device that allows women to urinate discreetly without removing clothes, or sitting down. They are ideal for long walks or where a toilet is not available. The Shewee Extreme includes a funnel, outlet pipe case, to discreetly store your Shewee. The outlet pipe is an extra length pipe that easily fits onto your Shewee funnel, this is particularly useful if you are wearing bulky clothing whilst enjoying Winter sports. Shewee is re-usable, take it everywhere!
Peebol is the pocket sized toilet that allows men, women and children to pee anytime and anywhere! Peebol is private, easy to use, discreet, non-spill, odour free and recyclable. Urinate into your Peebol for secure hygienic disposal. Inside the Peebol are rapid performing absorbent granules that convert fluid into a biodegradable gel. Ideal for car journeys, in a tent or anywhere you get caught short.
Holds 1 Litre per bag
Watertight
Reusable until full
Quantity: 1 bag per Shewee Extreme
Odours Eliminated
Folds flat (before use) 10cm x 10cm x 1cm – fits in a ladies purse or back pocket of your pants really easily!
Material: LDPE & Paper (The bag, contents and packaging are recyclable)
The Shepee Extreme Bundle consists of :-
1 x Pink Extreme + 1 Peebol
1 x Orange Extreme + 1 Peebol
1 x Aqua Extreme + 1 Peebol
1 x Black Extreme + 1 Peebol
1 x Purple Extreme + 1 Peebol
1 x Blue Extreme + 1 Peebol